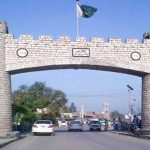 ISLAMABAD: Foreign Minister Shah Mehmood Qureshi has warned India's aggressive policy towards its neighbors is putting at stake the regional peace and security.
FM Qureshi said that India is trying to build an airstrip in disputed region but its army faced a shameful disgrace by the hands of Chinese Army.
Shah Mehmood said that India uses propaganda to divert the attention from its internal issues and it has created an atmosphere of confrontation in Indian Occupied Kashmir.
The minister said the Indian atrocities in occupied Jammu and Kashmir and its attitude with Nepal is before everybody and it is bent upon changing the demographic composition of the territory. He said India has also used the land of Afghanistan against Pakistan.
He urged India to not put regional peace at stake and resolve all issues through dialogue.