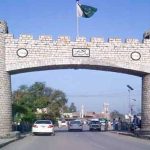 BIRMINGHAM: While addressing a fundraising event, Chief Justice of Pakistan (CJP) Mian Saqib Nisar resented that Pakistan was not given as charity by anyone, "an organized struggle is behind" the establishment of the country.
The chief justice was talking about the poor moral values in Pakistan as he lamented that lies and loot have gone deep into the society and have become a norm.
Highlighting the sacrifices of people, the top judge said, Pakistan was not given as charity by anyone, rather it is a fruit of an "organized struggle."
Justice Nisar reiterated at the event that dams will be constructed in Pakistan at all costs.
Chief Justice Saqib Nisar is currently on a week-long private trip to Britain in order to raise donations for the construction of Diamer Bhasha and Mohmand Dams.
Fund raising campaign for the Supreme Court of Pakistan and Prime Minister of Pakistan Diamer-Bhasha and Mohmand Dams Fund is in progress at a rapid pace.
According to the Supreme Court of Pakistan, over 7.839 billion rupees have been collected through donations by various individuals and organisations and expatriate Pakistanis so far.
The citizens can deposit their donations for the dam fund in the SBP's account number is 03-593-299999-001-4.
Until October 19, the country wise data showed that within Pakistan an amount of Rs 6.4 billionwas collected through bank branches, interbank transfers and mobile phone SMS service.
The overseas Pakistanis having PKR accounts in Pakistan can also make donations in the Fund through the internet banking facility of their respective banks.