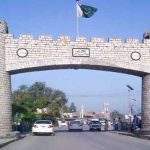 ISLAMABAD: Pakistan has welcomed the designation of the Balochistan Liberation Army (BLA) by the U.S. Administration as Specially Designated Global Terrorist.
In a statement, Foreign Office Spokesperson said that BLA remains a proscribed entity in Pakistan since 2006 and in recent times has carried out several terrorist attacks in the country.
He said it is important that the perpetrators, organizers, financers and external sponsors including those glorifying these acts of terror against Pakistan are held accountable and brought to justice.
The BLA was added to the US Department of Treasury terrorism list on Tuesday.  "The Department of State has designated the BLA and Hizballah operative Husain Ali Hazzima as Specially Designated Global Terrorists (SDGTs) under Executive Order (EO) 13224," read the official release issued by The Department of State.
"Today's actions notify the US public and the international community that Hazzima and BLA have committed, or poses a significant risk of committing acts of terrorism and that Jundallah, having adopted the new name Jaysh al-Adl, continues to engage in terrorism that threatens the national security of the United States. Terrorist designations expose and isolate organisations and individuals, and deny them access to the US financial system," it further read. Terrorist designations of BLA and Husain Ali Hazzima and amendments to the terrorist designations of Jundallah occurred in Washington, officials said.