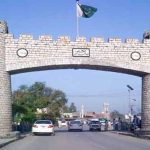 DAVOS: Pakistan's Foreign Minister Khawaja Asif said Pakistan would neither evolve its nuclear policy under the US permission nor change it on Washington's orders.
Talking to media in Davos, Switzerland, Khawaja Asif said that that Pakistan reserves the right to its defence. He said Pakistan has neither bowed down to pressure from the US in the past nor does it intend to do so now.
Foreign Minister Khawaja Muhammad Asif said World Economic Forum provides a good opportunity for Pakistan to interact with the world leaders and global economic experts.
Khawaja Asif said the rapidly developing Pakistan has been enlisted among the emerging economies of the world.
Asif's comments come amid tensions between the United States and Pakistan, which have only marginally subsided since Donald Trump's tirade against Pakistan prompted a strong response from the latter.
The US has long blamed militant safe-havens in Pakistan for prolonging the war in neighbouring Afghanistan, giving insurgents a place to plot attacks and rebuild their forces.