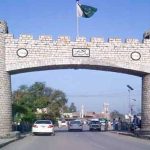 RAWALPINDI: US Special Representative for Afghanistan reconciliation Zalmay Khalilzad met on Friday Chief of Army Staff General Qamar Javed Bajwa, according to Inter-Services Public Relations.
According to the ISPR, the US envoy and army chief discussed the progress on the Afghan peace process and agreed to work for mutual interests.
"Zalmay Khalilzad appreciated Pakistan's whole-hearted support to the process and expressed hope that others would follow in same vein," stated the press release.
The COAS said that Pakistan will play its role to enhance its efforts for peace, added the ISPR.
A day earlier, the US envoy met with Prime Minister Imran Khan and Foreign Minister Shah Mehmood Qureshi.
In the meeting, the prime minister expressed satisfaction over the international consensus on efforts made for stability and peace in Afghanistan.
The prime minister said that Pakistan will continue its role to facilitate the peace process and maintain contact with the US and other stakeholders.
PM Imran said that a peaceful and stable Afghanistan is in favour of the region and Pakistan as well.
In a statement issued by the Foreign Office, the US envoy and FM Qureshi also discussed the progress in backdrop of the meeting held in Doha, which was the seventh round of talks with the Taliban and US.