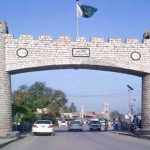 MIRANSHAH: Prime Minister Imran Khan said on Monday Pakistan shall not fight any imposed war inside its territory again.
The premier and Army chief Gen Qamar Javed Bajwa visited North Waziristan, said the Inter-Services Public Relations (ISPR) in a statement today.
"We have fought an imposed war inside our country as our war at a very heavy cost of sweat & blood and loss to our socio-economic fibre," the military's media wing quoted the premier as saying.
The PM said that no other country or their armed forces have done what Pakistan and its armed forces have done in war against terrorism.
Upon arrival, the ISPR added, PM laid floral wreath at the Martyrs' Monument. He was briefed in detail about the operations conducted, ongoing stability operations, rehabilitation of TDPs, socio-economic development projects and fencing along Pak-Afghan border.
The premier also visited Ghulam Khan Border terminal and witnessed the border fencing.
Later, PM Imran addressed combined jirga of elders from North & South Waziristan.
He greatly appreciated people of erstwhile Fata/KP who have gone through very challenging and difficult times of facing terrorism. He hailed the achievements of Army, all other security forces and intelligence agencies for their successful operations against terrorists.
"We are for peace beyond borders including in Afghanistan," PM Imran said. "We shall play our role in Afghan peace process along with other stakeholders as peace in Afghanistan is critical for achieving enduring peace in Pakistan."
He paid rich tribute to the martyrs and their families who have sacrificed so much for the safety, security and prosperity of the people of Pakistan and the motherland.
Prime Minister announced various welfare packages for the newly established districts of erstwhile Fata. He announced establishing of an education university, Army cadet college and job opportunities including enrolment in the law enforcement agencies.
"A new Pakistan is in the making", PM concluded.
Key federal and provincial ministers, Governor Khyber Pakhtunkwa and Chief Minister KP accompanied PM.
Earlier, tribal elders demanded the government to launch a housing scheme in North Waziristan. They also sought funds for the construction of a college in Miranshah, and a university and grid station in North Waziristan.
The tribal elders also called for more funds for TDPs, and reconstruction of the homes destroyed.