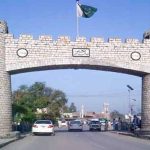 RIYADH: Pakistani Ambassador to Saudi Arabia, Raja Ali Ejaz, held meeting with Saudi Foreign Minister Adel al-Jubeir on Tuesday.
Ejaz and Jubeir exchanged views of regional tensions and steps taken for the establishment of peace during the meeting.
The high-ups have also reviewed follow-up steps of the recent visit of the Saudi FM Adel al-Jubeir to Pakistan.
On Mar 18, Pakistan's newly-appointed ambassador to the Kingdom of Saudi Arabia (KSA) Raja Ali Ejaz had presented his credentials to King Salman bin Abdul Aziz in a ceremony held at Al -Yamamah Palace in Riyadh.
As per details, the Saudi king welcomed the ambassador and hoped that he will play a positive part in further strengthening the relations between the Kingdom and Pakistan, said a statement issued by the Pakistan Embassy in the Saudi capital.
Envoy Ejaz extended greetings from the Pakistani leadership to the custodian of two Holy mosques, while highlighting Pakistan's close ties with KSA. He also recalled the recent successful visit of Crown Prince Mohammad bin Salman to Pakistan and assured the King of Islamabad's continued support to Riyadh.
In a major diplomatic reshuffle, the government of Pakistan Tehreek-e-Insaf (PTI) nominated Ejaz as the new ambassador to the KSA.
Prime Minister Imran Khan had decided to change all political appointees approved by the previous Pakistan Muslim League-Nawaz (PML-N) government on key diplomatic missions including Saudi Arabia, the United States and the United Kingdom.