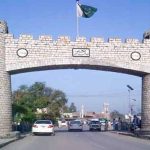 PYEONGCHANG: Pakistani athletes are representing the country in events of Winter Olympics 2018 which are underway in South Korea.
According to reports, Muhammad Karim finished at the 72nd spot in the giant slalom event after completing the course in 54.04 second and bagged 225.85 points. He finished ahead of Puerto Rico and North Korea.
It is pertinent to mention that out of 119 skiiers, that 75 competitors managed to complete the race.
Michael Hirscher of Austria won the gold medal in the event while the silver and bronze medals won by Henrick Kristofferson of Norway and France's Alexis Pinturault respectively.
Syed Haman Shah, on the other hand, represented Pakistan in the cross-country where he finished on the 108th position with 274.80 points.
Secretary Ski Federation of Pakistan Shahid Nadeem said, "It was a tough course."
He further said, "Karim is more confident now. Of course this is his second time at the Olympics so we are hoping for a better performance in the next event. Many skiers couldn't even finish the race so it says a lot that it wasn't easy at all."
Muhammad Karim will represent Pakistan in the Slalom, which is expected to be contested on February 23.