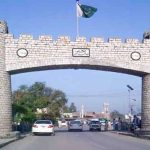 ISLAMABAD: Several rallies are being carried out today in efforts to pull the world's attention towards the plight of Kashmiri people living in miserable circumstances under Indian occupation.
One-minute silence was observed to pay homage to the martyrs of the freedom struggle of the Indian-Occupied-Kashmir (IOK).
In Islamabad, civil society formed a human chain at D-Chowk to express solidarity with Kashmir.
Meanwhile, Federal Minister for Kashmir affairs and Gilgit-Baltistan Ali Amin Gandapur asserted that the freedom struggle would continue till Kashmiris get their right to self-determination and honour.
The minister said that the Reports of the Office of the High Commissioner for Human Rights on Jammu and Kashmir and the UK's All Parties Parliamentary Kashmir Group (APPKG) have unveiled decades long atrocities by India in occupied Kashmir.
The ceremony was attended by a large number of students hailing from various colleges, schools and people belonging to various walks of the society.
Besides, a large number of children gathered in the event organized at the historic Kohala Bridge, which forms part of one of the land routes from the Azad Kashmir to Pakistan.
Moreover, several walks and seminars have been organized to observed the Kashmir Solidarity Day.
Participants of rallies chanted full-throat slogans against Indian atrocities in the IOK.
On Mangla Bridge, people gathered and formed a human chain while urging the world to take effective measures to provide relief to Kashmiris on the priority basis.
Furthermore, human chains were also formed at Kohala, Holar and Azad Pattan points linking Pakistan and Azad Kashmir.
In Quetta, people organized demonstration to express support for the people of Kashmir.