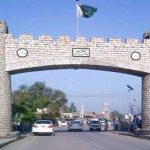 ISLAMABAD: Prime Minister Imran Khan has said the Pakistani nation will always stand by the oppressed people of occupied Kashmir.
He was addressing participants of a human chain formed at the Constitution Avenue Islamabad on Friday to express solidarity with Kashmiris.
The Prime Minister said we will continue supporting the people of occupied Kashmir and our movement for human rights of Kashmiris will become a sea one day.
He said we are repeatedly giving a message to the world that eight million Kashmiris have been under siege for over two months.
Imran Khan said it is an irony that the international media is giving much coverage to the protests in Hong Kong while it is ignoring the oppression against eight million people of occupied Kashmir.
He said the world should know that the people of Kashmir have gone beyond the fear of death. There will be millions of people on roads the day curfew is lifted from occupied Kashmir.
He said Indian Prime Minister Narendra Modi has committed a grave mistake by illegally annexing Kashmir. He said such oppressive tactics will not subjugate Kashmiris' just struggle for right to self-determination. Their struggle will lead to their independence from Indian occupation.
A large number of people belonging to different walks of life formed a human chain to express solidarity with Kashmiris.
The participants chanted slogans for freedom of Kashmir from the Indian occupation.