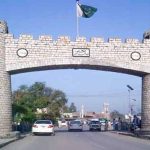 The Pakistani rupee has managed to maintain its hold with a repeat of gaining slightly against the US dollar in the interbank trading, reported 24NewsHD TV channel.
As per the money market report, the local unit was appreciated by 10 paisas against the greenback during Wednesday's interbank session where the US dollar was being exchanged for Rs283.45.
On Tuesday, the Pakistani rupee registered a small recovery of three paisas against the US dollar which ended the day at Rs283.55 in the interbank.