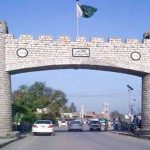 KARACHI: Pakistani Rupee continues to make fresh gains against US dollar in interbank and open market on Friday.
The Interbank dollar became cheaper by 15 paisa, after which the new value of the US currency closed at Rs156.08.
Likewise, in the open market, the value of the dollar fell, the greenback fell 10 paisa and was closed at Rs156.30.
From the last few months, the USD to PKR has seen a tremendous raise. However, the increasing Dollar rate in Pakistan is affecting the economy of Pakistan. The prices of several goods have been increased due to the fluctuation in Dollar rates.
Financial analysts believe that the USD to PKR will be further increased in the upcoming days. Inn the last 90 days, the US Dollar averages at Rs159.12 with the high and low of Rs164.25 and Rs156.5 respectively. In the last 30 days, the Dollar rate averages at Rs157.38 with the high and low of Rs159.2 and Rs156.5 respectively.