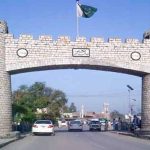 WASHINGTON: Pakistan's Ambassador to the United States, Asad Majeed Khan says lasting peace and stability in South Asia would remain elusive as long as India continues to deny the people of Occupied Kashmir their legitimate right to self-determination.
Talking to Chairman US Senate Foreign Relations Subcommittee on South Asia, Senator Mitt Romney in Washington, he reiterated Pakistan's desire to resolve the core regional dispute through dialogue.
The Ambassador briefed the US Senator on regional situation in the backdrop of recent tensions between Pakistan and India.
He said the restraint and maturity shown by Pakistan's leadership, highlighted by Prime Minister Imran Khan's decision to release the Indian pilot was critical to de-escalating the situation between the two countries.