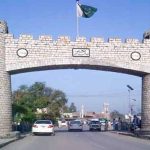 ISLAMABAD: While responding to US President Donald Trump's recent remarks about "safe havens for terrorist organisations" in Pakistan, Interior Minister Ahsan Iqbal on Wednesday said that Pakistan's commitment to eliminate terrorism is not bound to please or anger a second or third country.
Talking to media, Ahsan Iqbal said that he does not take any allegations linking Pakistan to terrorism as the truth because "no other country has suffered more from terrorism than Pakistan." "We are the biggest victims," he said. "No country in the world has sacrificed and fought to get rid of terrorism like Pakistan has for the past four years."
Ahsan insisted that Pakistan wants peace in the entire region; however, that goal cannot be achieved by pointing fingers at each other. He also said that elimination of terrorism is vital for the economic development of the country.
The Interior Minister said that if elected prime ministers can appear before the courts and are bound to abide by their orders, the same should hold for "the retired general" who is facing a treason trial.
The interior minister was responding to a question asking whether the law applied differently to an elected prime minister compared to retired general and former president Pervez Musharraf.
"There is no reason for any citizen to escape trial as no one is above the law," Iqbal said.
"It is unfortunate that a person who is responsible for the country's dismal affairs and who is now giving interviews on television is not facing the courts," Iqbal said.
"He left the country after the courts granted him permission," Iqbal noted, "[But] we will fulfil our responsibility through any and every legal process that is available."
"It doesn't matter if the accused is a president, a prime minister or an ordinary citizen: if someone has broken the law and pushed the country towards chaos, he must be held responsible as the rule of law is the same for everyone," the interior minister insisted.