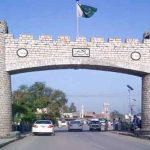 ISLAMABAD: Pakistan on Saturday has reported 281 deaths from novel coronavirus while the total number of cases has surged to 13,328.
According to details, 5,446 patients have been tested positive for the epidemic in Punjab, 4,615 in Sindh, 1,864 in Khyber Pakhtunkhwa, 781 in Balochistan, 318 in Gilgit-Baltistan, 245 in Islamabad and 59 in Azad Kashmir.
So far, 3,029 patients have recovered in the country.
The federal government on Friday extended the countrywide lockdown for the next two weeks citing fears of the spread of the novel coronavirus pandemic.
The decision was taken during a meeting of the National Coordination Committee (NCC) with Prime Minister Imran Khan in the chair.
Federal Minister for Planning Asad Umar said the provincial governments will decide on their own regarding extension in lockdown.
Punjab Government has decided to extend the province-wide lockdown by 15 more days. Milk shops will be allowed to open during Iftar and Sehr but mass Iftar gatherings would be banned.
This important decision was taken during a meeting chaired by Chief Minister Usman Buzdar. The meeting reviewed in-detail the spread of coronavirus, steps taken to control it, and other related issues.
The meeting decided to extend lockdown by 15 days directing that roadside mass iftar gatherings would be prohibited but shops of milk, samosas, pakoras, etc would be allowed to open at times of Sehr and Iftar.
Sindh government has issued SOPs for the month of Ramadan, according to which Taraweeh prayers will be offered only at homes, and grocery stores and vegetable shops will only be allowed to open from 8:00 am till 5:00 pm.
According to the Sindh government's directive, milk shops can remain open till 8:00 pm while stalls selling traditional Ramadan eatables such as samosas, pakoras, and fruit salads will be disallowed to operate, except for home delivery.
Moreover, leaving homes from 5:00 pm till 8:00 pm will be prohibited and restaurants will be able to provide home delivery and drive-through services till 10:00 pm, whereas, the takeaway will not be allowed.