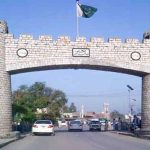 WASHINGTON: Dania Hassan of Pakistan received Emerging Young Leaders Award at a ceremony held at the US State Department in Washington on Wednesday.
State Department honored 10 outstanding young leaders from across the globe, including Dania Hassan, for their efforts as partners for peace and drivers of economic growth and opportunity.
The award is given in recognition of the positive role young people play in building sustainable peace, according to US Department of State.
Dania Hassan of Pakistan, 18, seeks to raise the quality of education throughout Pakistan. After attending summer school at Johns Hopkins University via the US Summer Sisters Exchange Program in 2016, Dania established an organization called "Fun to Learn," through which teams of volunteers conduct extracurricular programming in underprivileged schools.
Dania and her team discuss pertinent topics regarding Hygiene and Health; Environmental Awareness and Going Green; School Safety; and Emergency Preparedness and Self-Defense.