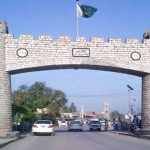 Pakistan foresees its betterment in peaceful Afghanistan: Qureshi
ISLAMABAD: Foreign Minister Makhdoom Shah Mahmood Qureshi has said that Pakistan foresees its betterment in peaceful and prosperous Afghanistan.
Addressing a ceremony at Institute of Strategic Studies in Islamabad on Thursday, he said Pakistan is very clear in its objective with regard to peaceful Afghanistan.
The Foreign Minister said there will be challenges on the road to peace and prosperity that needs to be overcome jointly.
He said prosperity of Pakistan is possible if there is peace and tranquility in Afghanistan. He said we assure our utmost cooperation for a peaceful Afghanistan.
Shah Mahmood Qureshi said Pakistan and Afghanistan stood by each other through thick and thin and shared grief of each other.
He said both countries have common agenda of peace and people of both countries also want better relations between the two countries.
The Foreign Minister said both countries have to look for the future of coming generations.
He said delegations of the two countries had constructive engagements this morning. He termed the visit of Afghan President Ashraf Ghani to Pakistan as a turning point.