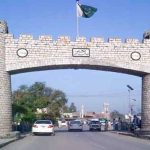 GOLD COAST, Australia: Pakistani wrestler Mohammad Inam has won gold medal after defeating his Nigerian opponent Melvin Bibo in the 86kg category under the Commonwealth Games 2018 here on Saturday.
29-year-old Inam, who also won a gold medal in Delhi Commonwealth Games in 2010, outclassed his opponent 6-0 without allowing him earn even a single point.
Inam had defeated Jayden Lawrence in the first bout before beating India's Somveer in the quarterfinal and Alexander Moore in the semifinal to confirm his berth in the final match.
Inam's victory adds first gold medal for Pakistan, whereas, Pakistani athletes have secured five different medals so far in the current edition of the Commonwealth Games.