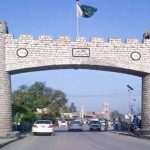 ISLAMABAD: The Joint Investigation Team (JIT) for Panama case has recalled Hussain Nawaz on May 30th for further investigation, reported Waqt News.
The son of Prime Minister was given questionnaire and asked to give answers within time.
Earlier, Hussain Nawaz testified in front of Joint Investigation Team (JIT) today.
He recorded his statement in front of the team.
During the questioning, JIT asked him about the questionnaire. Upon which he replied that he did not receive any.
"I came here in emergency because when notice was sent, I was in London hence could not bring any documents with me," he told JIT.
JIT was established by Supreme Court to further probe Panama Leaks scandal.
According to details, Hussain Nawaz along his legal team reached Judicial Academy in Islamabad.
"I will present my stance in front of JIT," he told media outside the academy.
Earlier, JIT sent a notice to Hussain Nawaz with verdict of Supreme Court under which Prime Minister Nawaz Sharif and his sons Hussain and Hassan Nawaz have asked to ensure their presence in front of JIT for investigation.
Hussain Nawaz, however, has already raised questions about impartiality of two out of six members of JIT.
In an application to Supreme Court, he has asked for an appropriate action against those members.
Three-member bench will hear application of Hussain Nawaz on Monday.
While talking to media, Hussain Nawaz stated that he did not raise questions on any individual rather on his conduct. "I will raise questions about conduct of any JIT member on which I will have reservations," he added.
Large number of PML-N workers, leaders and Islamabad Mayor has also reached outside the academy to show their support for son of the premier.
While commenting on reluctance of Hussain Nawaz, Pakistan Tehreek-e-Insaf (PTI) Chairman Imran Khan stated that he is not surprised on hesitation of PM's son as even his father could not play without his own umpires.