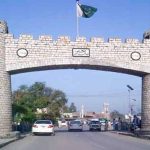 ISLAMABAD: The Joint Investigation Team (JIT), probing offshore assets of Sharif family, has summoned Hussain Nawaz and Hassan Nawaz again, reports said.
According to the reports, the probing team has issued summons to Hussain Nawaz to appear before JIT on Friday, June 09 at 11:00 am and Hassan Nawaz for Saturday June 10.
Hussain Nawaz will appear before the JIT fifth time on June 09, while it's Hassan Nawaz's second appearance.
The JIT, on Wednesday, submitted its interim report to the Supreme Court.
The Supreme Court bench — formed on May 2 to oversee the JIT's work in light of the apex court's April 20 judgment — is headed by Justice Ejaz Afzal Khan and comprises Justices Sheikh Azmat Saeed and Ijazul Ahsan.