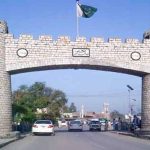 LAHORE: Maryam Nawaz, daughter of former prime minister Nawaz Sharif, on Saturday claimed that the verdict on the Panama case was announced before the trial began.
"Corruption, Panama, and Iqama are all excuses to target Nawaz Sharif," she said while addressing a Traders Convention in Lahore.
Maryam further said she had brought her father's review petition to the court of he trader community.
"Was it not Nawaz who brought the country out of the power crisis," she said, adding each time her father was handed over a 'broken Pakistan,' her father strengthened it and built it back again.