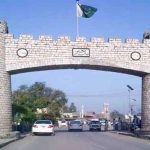 ISLAMABAD: A three-member special bench of the Supreme Court on Monday dismissed the reservations raised by Prime Minister Nawaz Sharif's son, Hussain Nawaz regarding two members of the Joint Investigation Team (JIT) formed to probe Panama Papers case as per the apex court's instructions.
According to details, the top court ordered JIT to continue work as per law.
In an application filed to the SC, Hussain had raised objections against two of the six members of the JIT: Bilal Rasool of the Securities and Exchange Commission of Pakistan (SECP) and Amer Aziz of the State Bank of Pakistan (SBP).
He had alleged that Rasool is a nephew of Mian Mohammad Azhar, whose family are ardent Pakistan Tehreek-i-Insaf (PTI) supporters.
Advocate Khawaja Haris represented Hussain Nawaz in the top court.
Furthermore, SC ordered National Bank President to be present in front of JIT tomorrow.
On Sunday, the Joint Investigation Team (JIT) for Panama case recalled Hussain Nawaz on May 30th for further investigation.
Hussain also objected to the inclusion of Aziz, who was also part of a National Accountability Bureau investigation which was carried out into the Hudabiya Paper Mills scam under former president retired Gen Pervez Musharraf's regime.
A day earlier, the JIT, headed by Federal Investigation Agency (FIA) Additional Director General Wajid Zia, grilled Hussain Nawaz for about two-and-a-half hours at the Federal Judicial Academy (FJA).
Sources in the JIT said the investigation team questioned Hussain Nawaz with regard to his ownership of the London flats.
They said the JIT also asked him why he kept changing his stance over the source of income for those properties in interviews telecast by different television channels, including the BBC in 1999, where he said he was a student and could not own any property, and was rather living in rented premises.