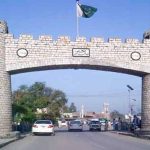 Long queues, brawls and traffic jams were witnessed at petrol pump stations across Pakistan Thursday morning as the strike announced by petroleum dealers triggered panic buying.
The Pakistan Petroleum Dealers Association (PPDA) had announced they would go on a strike from today (Thursday) till an indefinite period to demand an increase in the margin on the sale of petroleum products.
"Petrol pumps across the country will remain closed today," said the Petroleum Dealers Association secretary. "The government did not accept our demands. Till the government does not increase the dealers' margin to 6%, we will not negotiate with them," he added.
He alleged that the government had provided assurances of fulfilling dealers' demands but so far, had not spoken to them.
In Karachi, commuters rushed to the petrol pumps to get their fuel tanks filled in long queues, which disrupted the traffic movement on major arteries of Karachi.  Scuffles between citizens were also observed during the panic buying of petrol.