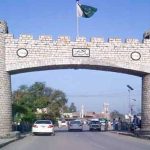 PARACHINAR: At least 23 people were killed while 55 sustained injuries when a bomb ripped through Parachinar area of Kurram Agency on Sunday.
The death toll was expected to rise after the explosion at the Eidgah used-clothes market in Parachinar city, the capital of Kurram tribal district on the border with Afghanistan.
The market was filled with a large number of people who were buying used and second-hand winter clothes.
Television footage showed hundreds of male marketgoers fleeing the area, which was strewn with clothing and debris, as police tried to cordon off the location and ambulances rushed to the site.
People rush from the blast site to a secure place.
Security forces reached the spot and cordoned off the area whereas evidence is also being gathered from the crime scene."At least 23 have died and more than 50 were injured," said Amjad Ali Khan, the political administrator of Kurram.
Meanwhile, two suspects were taken into custody from the blast site whereas police state that bomb was hidden in a cloth bale.
The injured and dead were shifted to Agency Headquarters Hospital Parachinar for medical assistance. However, officials have so far not confirmed the exact nature of the blast.
A doctor at the hospital, where the wounded were taken, told foreign news agency that most of the injured were in "critical condition" and said the death toll could increase.
Moreover, emergency has been declared in all the hospitals of Parachinar.
No one immediately claimed responsibility for the attack in the region, who make up roughly 20 percent of Pakistan s population of 200 million.
The market, where used winter clothes are sold, is located near the entry point of Parachinar town, the main city in Kurram Agency.
Prime Minister (PM) Nawaz Sharif, Interior Minister Chaudhry Nisar, Chief Minister (CM) Punjab Shahbaz Sharif and Jamaat-e-Islami (JI) chief Siraj-ul-Haq has strongly condemned the attack and expressed sympathies with the victims families.
The PM has also directed to provide best medical facilities to blast victims.
Kurram is one of Pakistan s seven semi-autonomous tribal districts which are governed according to local laws and customs.
They are the frontline of Pakistan s battle against militant insurgency that began in 2004 after the US-led invasion of Afghanistan forced Taliban and Al-Qaeda militants to flee across the border.
Overall levels of violence have decreased this year following a nationwide military-led offensive against militants, including a crackdown on groups who incite hatred.