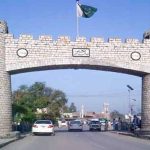 PARACHINAR: The death toll in Parachinar explosions has reached to 18 while more than 100 injured in two explosions.
According to earlier reports, ten people were martyred and more than 60 injured in two bomb blasts in Parachinar city. However, later on eight more injured succumbed to their injuries at hospital. According political administration, at least 18 people were martyred while more than 100 injured in the explosions.
The serious injured were being shifted to Peshawar, while over 100 injured were shifted to local hospitals. The people were busy in eid shopping when the blasts occurred. According to some reports, the blasts were suicide explosions. The local officials said that the second blast was more deadly as the people rushed to the site of the first blast for rescue work, when the second blast occurred.
According to reports, 30 injured were in critical condition.
The administration said that emergency has been declared in hospitals as the people are shifting the injured to agency hospital.
According to reports, the first blast occurred at Tori bazaar while second blast occurred in the same bazaar when the injured were being shifted hospital.
The security forces also rushed to the blast site and cordoned off the area.
Member of National Assembly from Kurram Agency, Sajid Turi also confirmed the killing of 15 people in the blasts.