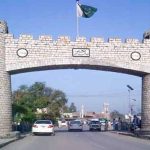 PARACHINAR: Death toll from Parachinar Sabzi Mandi blast has reached to 22 as critical injured are being shifted to military hospitals in Kohat and Peshawar.
According to officials of the political administration, at 22 people were killed and over 35 injured in the explosion. The political administration said that bomb was planted in fruit crate, which was exploded with remote.
Army personnel and Frontier Corps's Quick Reaction Force reached the blast site and cordoned off the area. Army helicopters were also flown to the site to evacuate the injured to hospitals, the ISPR said.
According to ISPR, the COAS General Qamar Javed Bajwa directed for quick evacuation, best medical care to victims of Parachinar blast. The COAS said that the terrorists will fail in their attempt to regain lost relevance.
According to reports, 12 dead bodies have been shifted to Imambargh while six dead bodies have been shifted to a nearby mosque.
According to earlier reports, least ten people were killed and more than 30 were injured in Parachinar, Kurram Agency, on Saturday.
According to Khyber News correspondent, the blast occurred at New Sabzi Mandi at Eidgah Market when a large number people were busy in shopping vegetables.
The political administration confirmed the killing of one person in the blast and said that more than 20 were injured in the explosion. However, the sources at hospital confirmed killing of six people in the blast, while MNA Sajid Hussain Turi claimed that at least 10 people were killed in the explosion.
The hospital sources said that over 30 injured were shifted to hospital, where some of the injured in critical condition. The security forces rushed to blast site while the injured were shifted to agency headquarters hospital.
A statement issued by the Inter-Services Public Relations (ISPR) said the improvised explosive device (IED) blast took place at 08:50am.
The injured were shifted to agency headquarters hospital.
Dr Sabir Hussain said many of the wounded were in critical condition and death toll could dramatically jump up.
Government official Shahid Khan said the explosion took place when the market was crowded with retailers buying fruits and vegetables. He said the nature of the explosion is being investigated.
The nature of the blast could not be immediately ascertained.