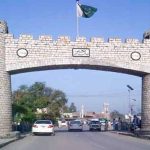 PARACHINAR: The protesters Friday formally announced end to their sit-in after the Army chief Gen Qamar Javed Bajwa accepted their demands.
According to reports, Parachinar sit-in leader Muzammil Hussain formally announced end to sit-in, after army chief acceded to their demands.
According to social activist, M Jibran Nasir, who is present in Parachinar, the sit-in committee had successful talks with COAS Gen Qamar Javed Bajwa. He claimed that the army chief assured the victims that they would get compensation equivalent to compensation given in Punjab, while the family members of the victims would get jobs.
Meanwhile, PTI chief Imran Khan also reached Parachinar and addressed the participants of the sit-in. He expressed solidarity with the twin-blast victims and said that an international conspiracy was behind sectarian violence in the country. The PTI chief strongly condemned the blasts. He also met with the victim families.