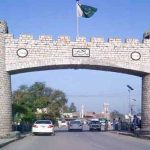 PARACHINAR: The Parachinar twin-blast's victim families and people of the area continued their sit-in for fifth day on Tuesday and said that they would only end their protest if the prime minister an army chief personally assured them of security in future.
The protesters have been holding sit-in at PA chowk in Parachinar since the Turi Bazaar two blasts, in which more than 70 people were martyred.
Talking to Khyber News correspondent, the protesters said that they would not trust governor and corps commander Peshawar as they failed to fulfill their promises. They also questioned the security arrangements by the military and political administration in the area. They said that how could the bombers cross many checkposts without being noticed by the security personnel.
Dozens of protesters offered their Eid prayers wearing black armbands in the market in Parachinar, where the bombs tore through crowds of shoppers on Friday, local officials said.
Parachinar, capital of Kurram Agency, a mainly Shia area in the tribal belt, had already suffered two deadly bomb blasts in its markets this year.
It was the site of the first major attack in Pakistan in 2017, when a bomb killed 24 people in January in an attack claimed by the banned Lashkar-i-Jhangvi al-Alami and a splinter group of the banned Tehreek-i-Taliban Pakistan (TTP) led by Sheheryar Mehsud.
In March, a second attack in another market killed 22 people. The attack was claimed by the Jamaatul Ahrar.
Friday's assault ─ also claimed by the Lashkar-i-Jhangvi al-Alami ─ brought the town's loss of life due to terror attacks up to 115, more than any one city in Pakistan has suffered so far this year.