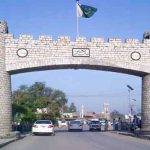 ISLAMABAD: Accountability Court on Wednesday summoned Pakistan Peoples Party (PPP) co-chairman and the former president Asif Ali Zardari in connection to another reference of an ongoing probe of Fake Bank Accounts on August 19.
According to reports, AC has summoned the former president in Fake Bank Accounts' Park Lane reference on August 19.
The court has also summoned 16 other accused of the said case, the reports added.
On the other hand, AC judge Muhammad Basheer has already issued notices to all the accused in this regard.