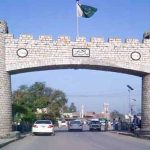 ISLAMABAD: Minister of State for Parliamentary Affairs Ali Muhammad Khan on Wednesday said that Pakistan Tehreek-e-Insaf (PTI) government agreed to form a Parliamentary Committee on alleged elections rigging without any sit-in or protest call by the opposition.
Talking to Media outside Parliament House, he said that once PTI was demanding Parliamentary Commission on elections 2013 and after long protest and sit-in, the government had agreed to form Commission.
He said that the committee would set Terms of References (TORs) in this regard, adding that the Parliamentary leaders of all the political parties have discussed various issues in this regard and
agreed to.
He said that government is doing all this with sincere intention. The committee would finalize its recommendations as par the constitution, he added.