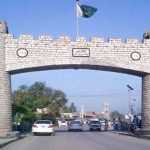 ISLAMABAD: The National Assembly Monday adopted a motion authorizing the speaker to nominate fifteen members of the Lower House for the Parliamentary Committee to protect minorities from forced conversions.
The Speaker has also been authorized to make changes in the composition of the committee as and when appropriate.
Meanwhile, responding to the PML-N's Khawaja Asif demand for parliamentary committee on North Waziristan incident, the Minister for Communication and Postal Services Murad Saeed said that the process of development and progress has begun in erstwhile FATA and the government is committed to address every genuine demand of tribal people.
He said Prime Minister Imran Khan and entire government of Pakistan Tehreek-e-Insaf were eager to solace the people of tribal areas, who have been facing pain and war for last several years. He said Imran Khan has announced a package of 22 billion rupees for the rehabilitation of houses and shops for the tribal people destroyed in war on terror.
The Minister said it was he, who raised voice in the National Assembly for the rights of the tribal people. He said Pakistan's constitution guarantees freedom of speech to every citizen, but the fashion of maligning country's institutions should be stopped.
The speaker adjourned the session till 2 p.m. on Tuesday.