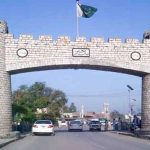 ISLAMABAD: The draft bill for the delimitation of constituencies has been agreed upon by all the parliamentary parties, National Assembly (NA) Speaker Ayaz Sadiq said on Wednesday.
Addressing the media after a meeting of political parties, Sadiq said all parties are united with regards to the bill and will vote for in the NA when it is tabled.
In response to a question, Sadiq said a total of 780,000 people will be represented on one NA seat after the readjustment.
He said the Election Commission of Pakistan (ECP) will now begin the process of delimitation according to the latest population census in light of General Elections 2018.
The meeting was attended by leaders of major political parties, including Khursheed Shah of Pakistan Peoples Party and Shah Mehmood Qureshi of Pakistan Tehreek-e-Insaf.
On Tuesday, after chairing a similar meeting, Sadiq had informed the media that the total NA seats will remain 272 but there would be a change in the allocation of NA seats for the provinces.
"The number of seats for Punjab will decrease, KP and Balochistan will see an increase, while an additional seat would be allocated for Islamabad."
It was decided in the meeting that nine NA seats from Punjab, out of which seven are general and two are reserved for women, will be decreased. However, Khyber Pakhtunkhwa will witness an increase of five seats, of which four will be general seats and one reserved for women candidates.
Balochistan will see an increase of three national assembly seats, two general and one for women. Sindh and Fata will not see any changes in the number of seats, while Islamabad Capital Territory would have an increase of one seat in the NA.
Once the bill is passed by the NA, it would be sent to the Senate for approval.