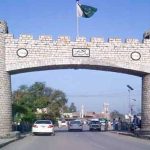 ISLAMABAD: National Assembly (NA) Speaker Ayaz Sadiq is chairing a session of parliamentary parties over the issue of delimitation of constituencies.
Representatives of almost all political parties in the Parliament are in attendance to chalk out a strategy over the issue of delimitation of constituencies in line with the latest census ahead of next year's general elections.
Members from the Muttahida Qaumi Movement-Pakistan, however, are yet to join the session.
Officials of the Election Commission of Pakistan (ECP) and Statistics Division are briefing the elected lawmakers.
Last week, the parties had agreed on keeping the total number of NA seats the same and changing the quota of the provinces in light with the provisional census results.
However, when the time came to pass the appropriate legislation in the NA, the main opposition parties, PPP, PTI and MQM, backed out.
Moreover, the government lawmakers also seemed uninterested as many did not attend the NA proceedings on Thursday and Friday. The government on Monday (Nov 6) prorogued the NA session — a decision which NA Opposition Leader Khursheed Shah criticised in a media talk today.
The ECP has said it needs Parliament to pass necessary legislation in line with the latest census if next year's elections are to be held on time.
At present, the PPP says it wants to see elections held on time whereas the PTI has called for early elections.