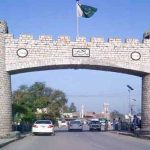 ISLAMABAD: Pashtoon Tahafuz Movement (PTM) leaders Tuesday briefed a meeting of the special committee of the Senate about their demands.
The committee meeting was attended by MNA Mohsin Dawar, Manzoor Pashteen and other PTM leaders. The meeting was attended by Senators Barrister Mohammad Saif Ali, Mushahid Hussain Syed and others.
According to reports, the PTM leader Manzoor Pashteen informed the committee about their demands about missing persons, land mines and truth and reconciliation commission. He also informed the committee about current situation in tribal districts.
The PML-N senator Mushahid Hussain Syed tweeted about the meeting, "Historic meeting at Parliament of Senate Special Committee where PTM Delegation invited to address Parliamentarians, with articulate & charismatic Manzoor Pashteen giving detailed presentation on developments in FATA, MNA Mohsin Dawar also present; candid & cordial dialogue".