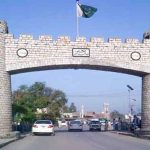 MARDAN: Pashto CTD dramas artist and stage dancer Lubna (aka Gulalai) has been killed after torture, Mardan police said here on Friday.
According to police, Gulalai's mutilated dead body was found dumped in the nearby fields in the vicinity of Chora police station.
Gulalai has lodged FIR at Chora police station and told the police that her daughter was coming from Peshawar to Mardan after brawl with her husband Imran Ali. She said that on her way back from Peshawar Gulalai went missing and now after few days her dead body was recovered from Mardan.
Gulalai's mother also alleged that some persons named – Nawab, Shah Hussain and Fazal Malik – had took her daughter for patch up with husband.
DPO Sajjad Khan said that FIR has been registered of the incident. He informed that two out of the three accused nominated in the FIR has been arrested and raids are underway to arrest the other accused.