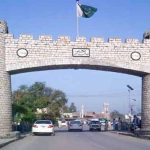 PESHAWAR: Famous Pashto Singer, Karan Khan Wednesday urged his fans to plant one tree per person to beat global warming and save the region from pollution and other causes of environmental degradation.
Karan Khan on his social media account left a message for his fans that heat wave was increasing
day by day which is caused by massive deforestation. He said that one plant provide oxygen to 36 children. He urged fans that those who were abroad should urge their families to plant one sapling which would save his family and others from pollution and global warming.
Karan Khan personally planted some saplings in his native mountainous area Swat and urged his fans
and others who watch his messages to sow one plant and care it for one year.
Talking to APP, Karan Khan said that Pashto saint poet Rehman Baba also stressed for plantation. He said that on one side it reduce global warming while on other side it eliminate pollution.
He said that illegal cutting of trees was a big crime and everyone should avoid himself from such crimes.