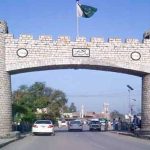 PESHAWAR: Famous Pashto stage actress and singer was allegedly shot dead by her husband in the Nowshera Kalan area of Nowshera district on Wednesday, police officials informed.
Police officials said actress Resham's brother, Obaidullah, lodged a First Information Report (FIR) with the local police and accused her husband of the crime.
Resham was married to Fayda Khan, a resident of Rahimabad, and her husband was residing and working outside the country due to an ongoing domestic dispute between the couple.
Resham's brother wrote in the FIR that the accused had recently returned to the country and had convinced his wife to visit his ailing father. He further claimed that when the two did not return for some time, he went to Resham's residence and found her body.
Police registered the FIR and began an investigation into the case. Resham was a popular stage actress and singer who performed in the country and abroad.