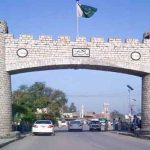 LAHORE: Pashtun Students Federation (PSF) staged a protest rally in Lahore on Wednesday against their rival student group Islami Jamiat-e-Tulba (IJT).
The rally attended by large numbers of Pashtun students was taken out from Mall Road to Press Club. Heavy police deployment was made on the rally's route to prevent any untoward incident.
Five students were injured after Islami Jamiat Taleba (IJT) students allegedly stormed a Pakhtun cultural event at Punjab University (PU) on March 28.
The move led to a violent clash between student groups prompting the police to fire teargas to disperse the protestors.