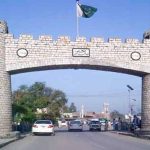 PESHAWAR: Chief Justice of Pakistan (CJP), Justice Mian Saqib Nisar Thursday appealed to lawyers to repair the system saying he could not fix it alone as change in system comes with law.
He made the remarks while addressing judges and presidents of various bars in Peshawar High Court bar room.
He said that it was the duty of judges to dispense justice adding that the person who does not receive justice on time is like a patient.
He urged the judges to react to the complaints that justice is being delayed.
"Laws formed hundreds of years ago have not yet been changed. Has anyone thought to bring reforms in the law?", the CJP added.
He said that making laws is the job of the government and said that he could only implement it.
Justice Saqib Nisar said he was being labeled as unjust with Pashtuns and added, "they are very dear to me".
Earlier, the CJP while hearing public welfare cases in the Supreme Court's Peshawar registry had summoned Chief Minister Khyber Pakhtunkhwa Pervez Khattak.