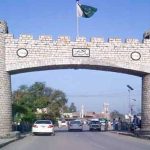 LAHORE: Pakistan Cricket Board's Anti-corruption tribunal (ACT) held a hearing for Sharjeel Khan, in the matter of the Pakistan Super League, spot fixing charges at the National Cricket Academy, Lahore on Friday.
Retired Justice Asghar Haider chairs the tribunal, which also includes retired Lt Gen Tauqir Zia and Wasim Bari.
Sharjeel Khan and his lawyer, Shaigan Ijaz; the counsels for PCB, Taffazul Rizvi and Haider Ali Khan; Head of PCB's Vigilance and Security Department Mohammad Azam Khan; and PCB General Manager Legal Affairs Salman Naseer were present at the hearing.
The PCB submitted an opening brief to the the ACT, which detailed the allegations against the defendant along with supporting evidence, including witness statements, recorded interviews, match footage, and copies of certain WhatsApp voice messages, among other material.
The ACT directed the parties to refrain from commenting on the tribunal's proceedings, the contents of the evidence presented, or on the merits of the proceeding.
A copy of the opening brief, along with all relevant material, was also provided to Sharjeel Khan and his counsel with instructions to respond to it on May 5.