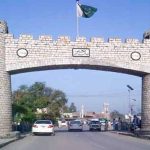 PDM Chief Maulana Fazlur Rehman declared on Sunday a "war" against Prime Minister Imran Khan's government at the Pakistan Democratic Movement rally in Peshawar. The JUI-F chief said the participants had rejected the government that came into power through poll rigging. "The people of Peshawar have held a referendum," he said. "The battle is on and we are to advance," Fazl said. "[We] have declared a war and it is a great sin to retreat from the battlefield."
Fazl extended his condolences to the Sharif family over the demise of Nawaz Sharif's mother. He expressed sorrow over the passing of Tehreek-e-Labbaik Pakistan chief Allama Khadim Rizvi too. The rally which was held at Kabootar Chowk near Ring Road began at 11am. Over 10,000 seats were set up at the venue.
Speaking at the rally, Bilawal Bhutto Zardari said this is the tenure of the 'selected'. Do you know who got an NRO, he asked the crowd. Terrorist Ehsanullah Ehsan got one, he said. The killers of the APS children got one, he said.
The Pakistan Muslim League-Nawaz leader left the rally after her brief address.
The rally was held despite a threat by the Khyber Pakhtunkhwa government to take legal action against the organisers given the rise in coronavirus cases.