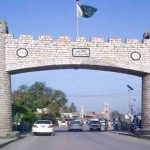 TAXILA: A meeting of PDM elders is being scheduled next week to sort out the issues between the PPP and PML-N, former prime minister Shahid Khaqan Abbasi said Sunday.
The former PM was talking to the media in Taxila while attending a wedding ceremony. He lashed out at the PTI government, saying the sitting rulers had devastated the country economically, socially and politically and the situation demanded a decisive struggle be started against the sitting regime.
"The joy in the government's camp on the development within the PDM ranks was misplaced as it has the capacity to overcome its complexities through its own mechanism," said the PML-N leader, according to Khyber News.
He said a meeting of the heads of the PDM parties would be scheduled next week and till then, informal consultations of the leaders will continue to hammer out national issues.
Abbasi said the PDM struggle had entered a decisive phase and fear in the statements of Prime Minister Imran Khan and his spokespersons was clearly visible.
On the public spat among the PDM parties, the PML-N leader said the people who had an understanding of the cause and were determined to put their efforts into it, wouldn't create a situation on petty things. He said that the PDM was bound to succeed since the people of the country would stand by it.