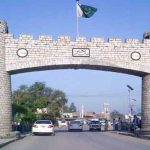 Pakistan Democratic Movement (PDM) chief Maulana Fazlur Rehman, while addressing a presser said that the alliance has decided on a "long march" towards Islamabad on March 26. According to sources, the long march will be termed "mehengai march" (march against inflation).
He also said that the parties have decided to contest the Senate elections together and will not go against each other's candidates. "Our candidates will be jointly decided," he said.
The PDM chief said that the movement "rejects" the open ballot method of Senate polls and the constitutional amendment to bring it about. "The Opposition believes in the overall package of election reforms," he said.
Speaking of inflation, he said that PDM had decided that electricity, gas and petroleum costs have skyrocketed and "made the lives of people difficult".
He also said that PDM "rejects" the formation of the commission to probe the Broadsheet scandal and considers it an attempt to "conceal their corruption".
The PDM chief said that in the foreign funding case against the PTI, 23 accounts were brought to attention, "but 18 are being hidden". "The talk of an open trial of the matter was nothing but a drama and has no standing," he added.