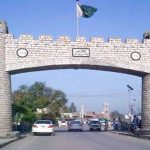 LAHORE: The president of PDM Maulana Fazlur Rehman Saturday called on Prime Minister Shehbaz Sharif and discussed overall political situation of the country and matters of mutual interest.
According to sources, Maulana Fazlur Rehman suggested to the prime minister that the PDM should not take part in by-elections on 33 vacant seats of the National Assembly. The source added that Maulana Fazlur Rehman was of the view that PTI chief Imran Khan would be disqualified soon. He said that the PDM should not take part in by-elections for national Assembly.
The PDM president said that the Election Commission of Pakistan should take into consideration law order and economic situation while deciding the date for elections for Punjab and Khyber Pakhtunkhwa Assemblies.
The prime minister said that all political parties should decide unanimous strategy about matters related to election and country's economy in the all parties conference to be held on February 7. He said that the government was making efforts for revival of the economy and the inflation would be controlled very soon. "We believe in constructive politics and this time is not for destructive politics," he said.