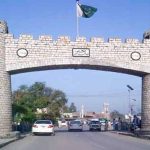 The Pakistan Democratic Movement (PDM) is set to hold an anti-government rally and public gathering today in Khyber Pakhtunkhwa's Bannu.
PDM chief Maulana Fazlur Rehman and Maryam Nawaz, Qaumi Watan Party's Aftab Khan Sherpao and Pakhtunkhwa Milli Awami Party's Mehmood Khan Achakzai are expected to address the gathering. Farhatullah Babar is expected to represent the PPP at the rally.
The rally will congregate at and proceed from JUI-F leader Akram Khan Durrani's house, after which it will arrive at the Bannu Sports Complex, where party leaders will address their supporters. The rally is being held despite protests by the Khyber Pakhtunkhwa Sports Department over the use of the venue for a public gathering.
A letter sent to the local administration said that holding political gatherings and activities should be banned in sports grounds in the district.
This is the second public meeting being held by the Opposition alliance against the government in four days. Last time the PDM leaders had met was in Bahawalpur.