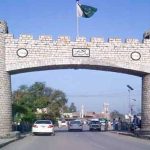 SWAT: At least five people, including a member of a peace committee, were killed in an improvised explosive device (IED) blast in Kotakey area of Kabal Tehsil of Swat here on Tuesday.
Swat District police officer (DPO) Zahid Nawaz Marwat confirmed that Idrees Khan and his two police guards – Head Constable Rambail and Constable Tauheed along with two others persons were killed in an improvised explosive device (IED) blast.
A blast hit a vehicle in the Khyber Pakhtunkhwa's Swat district on Tuesday evening, leaving five people dead, including peace committee member Idrees Khan.
According to the report, the miscreants attacked the vehicle of a member of the District Peace Committee, Idrees Khan, in the Bara Bandai area of the district.
The report added that all five people on board, including Khan and his four security guards, lost their lives in the attack.
The police sources said that the bomb was planted on the roadside and detonated with a remote-controlled device.
Police and security forces cordoned off the area and launched a search operation.
No group or individual has claimed for the attack yet.
There has been an uptick in the militancy and extortion cases in Pakistan's northern regions, particularly those bordering Afghanistan.
Earlier in the day, a PML-N MPA from Swat claimed that he had received a call from the militants and was threatened to pay extortion or face serious consequences.