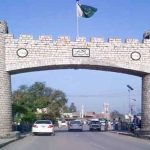 PESHAWAR: Awami National Party (ANP) Chief Asfandyar Wali Khan has said that peace and stability in Pakistan is not possible without restoration of peace in neighbouring Afghanistan adding that peace and prosperity of both the countries are interlinked.
Addressing a rally of grand opposition alliance in connection of observing Black Day against the alleged rigging in 2018 General Elections, Asfandyar Wali Khan said that the selected government of PTI has failed to resolve Pakistan's problems. He lamented that government has failed to control inflation in the country. He said that opposition political parties have united against the selected government.
Asfandyar asked PM Imran Khan to prove his claim against me of owning properties in Dubai and Malaysia. He said that houses were destroyed in North and South Waziristan tribal areas; however, low priced houses are constructed in Islamabad
The ANP chief said that US President Donald Trump in his conversation with Afghanistan claimed that he could destroy Afghanistan within weeks.
Addressing on the occasion, JUI-F chief Maulana Fazlur Rehman remarked that they will never accept the fake election results. He maintained that they will prefer to be jailed but will not never accept the selected government of PTI.
Maulana Fazlur Rehman said that the July 25 General Elections were fake and the nation has rejected it. Furthermore, he said that the nation has rejected the selected government.
Earlier, PML-N leader Ahsan Iqbal said that the government is incompetent and it has neither vision nor team of professionals for governing affairs.
He said that the PTI had stated it will not take loans from anyone but it went to almost every other nation.
The PML-N leader said that Imran Khan also went to the International Monetary Fund despite lambasting opposition over it.
PML-N spokesperson Marriyum Aurangzeb earlier said that on this date a year ago, the public's mandate was stolen.
United opposition is holding a series of rallies across the country to observe Black Day a year after the General Elections 2018, in which the Pakistan Tehreek-e-Insaf emerged victorious.
In Karachi, Pakistan People's Party leader Bilawal Bhutto will address a rally at Bagh-e-Jinnah, while another ally will be held in Lahore at Chairing Cross.
PML-N's Shehbaz Sharif will address the rally in Lahore. A rally is also underway in Peshawar, where PML-N leader Ahsan Iqbal was speaking to the crowd.