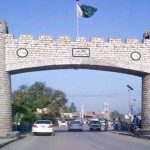 ISLAMABAD: National Security Advisor Nasser Khan Janjua on Tuesday said that peace in Afghanistan is vital for Pakistan adding that Pakistan will continue efforts to restore peace and stability in Afghanistan.
Janjua was talking to European Union Special Representative for Afghanistan and Pakistan Franz-Michael Mellbin in Islamabad.
The Security Advisor highlighted Pakistan's efforts for bringing peace in Afghanistan through an Afghan led and Afghan owned peace process.
He stated Pakistan is a responsible state and is playing a vital role in bringing peace in the region.
Nasser Janjua reiterated that Pakistan will continue to support reconciliation and peace efforts in Afghanistan. He further stated that there should be an end to unhelpful statements and blame game and bilateral relations should not be allowed to deteriorate.
Areas of mutual cooperation and overall regional security situation also came under discussion in the meeting.