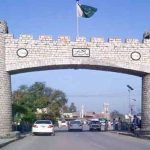 ISLAMABAD: After baring media from live coverage of the clashes taking place between the protesters of religious groups and forces in Islamabad, the Pakistan Electronic Media Regulatory Authority (PEMRA) has suspended transmission of TV channels .
According to reports, most of the channels have gone off air in Islamabad and elsewhere .
A policeman was martyred and 100 other people including policemen were shifted to different hospital after the authorities launched crackdown on the protesters at Faizabad Interchange.
The protesters were staging a sit-in for the last 19 days ignoring the government's appeals and court orders to end the protest.