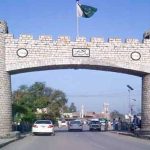 Faisalabad: Punjab Law Minister Rana Sanaullah has said that certain quarters were using Supreme Court (SC) to conspire against Pakistan but the SC judges would not let such people succeed in their designs.
Speaking to media in Faisalabad on Monday, he said that these conspirators need to be curbed.
He added that opponents of Pakistan Muslim League-Nawaz (PML-N) were relying on undemocratic ways to remove the prime minister.
He added that they knew it would be difficult for them to defeat Nawaz Sharif in the 2018 elections.
Training his guns at Pakistan Tehreek-e-Insaf Chairman Imran Khan, he said that when it came to the accountability of PTI chief, he claimed to have no record of anything.
He, likewise other PML-N leaders, repeated the claim that a conspiracy was being hatched against Pakistan at a time when the country had eliminated terrorism and load shedding.